Welcome to...
Mr Duck's
Amazing Web Site
---
About Mr Duck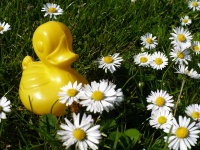 Hello, I am Mr Duck, and this is my amazing web site.
I am a duck from BathCamp. After the event we were found new homes with the BarCampers who agreed to take pictures of us. I ended up with Alistair who has taking a picture of me every day for two years since 1st January 2009.
Hope you like my site. I got the hippy to make it for me but I told him what to do. I like it, but I think it needs more yellow, and more pictures of me.